NO BETTER WAY TO GETTING TO ANZ STADIUM THAN BY WATER TAXI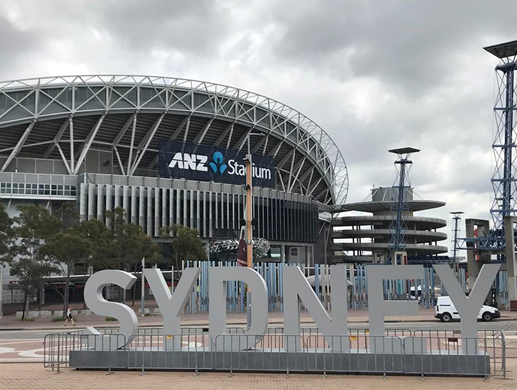 ANZ STADIUM, SYDNEY OLYMPIC PARK
ANZ Stadium is the grand stage for Sydney's major sports and entertainment events, since being purposely-built for the 2000 Sydney Olympic Games.
ANZ Stadium in 2003 reduced capacity to 83,500 but also gave the Stadium the ability to host five professional sporting codes – Rugby League, Rugby Union.
Football, AFL and Cricket and home of the NRL Grand Final &, Bledisloe Cup.
ANZ Stadium has also been Sydney's first-choice venue for some of the world's biggest entertainment acts such as AC/DC, Adele, The Rolling Stones, U2, Justin Bieber, Bon Jovi, Foo Fighters, Taylor Swift and Eminem To find out what's on at ANZ Stadium visit http://www.anzstadium.com.au/whats-on/
TRAVEL WITH YOUR FRIENDS IN YOUR OWN PRIVATE WATER TAXI:
Whether you are a sporting spectator or concert-goer, the simplest and best way to arrive to any game or event is with a pre-game warm up by sipping on an ice-cold beer and enjoying spectacular views as you make your way up the Parramatta River to Sydney Olympic Park Ferry Wharf.
The easiest way to travel to ANZ Stadium is to go by water taxi. Have a great night and avoid the traffic and hassle with public transport, BYO is accepted and we have the facility for you to play your music on board from your smart phones.
There is no better way to arrive at the game or concert than in your own private water taxi. Group travel is also cost-effective way to get to the event, it's also a much better way to organise your travel. Everyone arrives at the same time in the same place, with no problems finding people and after the game travel back in style.
ANZ Stadium is approximately a 40 minute walk from Sydney Olympic Park Wharf. There is a connecting 526 bus to the Stadium until 7.28pm daily. So leave plenty of time to take a bus or pre-arrange a land taxi to take you to ANZ Stadium from the Ferry Terminal.
BOOKING YOUR WATER TAXI:
It's best to make your water taxi booking in advance. Demand for bookings increases closer to game and event days / nights. If you can, book a month in advance, you should have no problem booking your water taxi. How to book and things to know:
·01Get on board, call us on 0439 625 377or email us on info@majesticwatertaxi.com and provide the number of passengers, times of travel, and tell us your return destinations.

·02On arrival at Sydney Olympic Park Ferry Wharf it takes 16 minutes by Public Bus, 7 minutes by Land Taxi and takes 40 minutes to walk to ANZ Stadium via Hill Road. So allow plenty of time to get to the game from the Wharf.

·03From the Sydney CBD it takes 35 to 40 minutes by water taxi to get to Sydney Olympic Park Ferry Wharf. So you will need to plan your trip to make sure you get to the stadium on time for your sporting event or concert.
HAVE A MEMORABLE WAY GETTING TO THE GAME WITH MAJESTIC WATER TAXIS:
Enjoy the Bledisloe Cup with us. Our luxury private water taxis can take you to and from the game to anywhere you want to go on Sydney Harbour. Get on board, call us 0439 625 377 or email us on info@majesticwatertaxi.com. We'll be happy to provide any information you require, and assist with your travel arrangements.