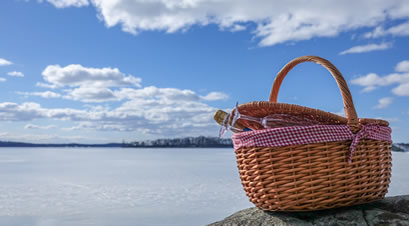 Best Sydney Island Picnic Spots
Searching for the best island picnic destinations in Sydney? Look no further than our fantastic guide. For a lazy afternoon of lunch, games on the grass or swimming, these islands are the idyllic picnic locations.
Ultimate Island Picnics in Sydney
Clark Island
Taking its name from Lieutenant Ralph Clark (who used the island as his vegetable patch in the late 1700s), Clark offers picnickers amazing views of the city. Sitting off the shores of Darling Point, it's a picture-perfect escape for those wanting a secluded and relaxed gathering. After lunching, enjoy a dip in the sea, sunbathing, or explore the tranquil bush land. The brilliant scenery makes the ideal backdrop for an al fresco meal.
Shark Island
Rhyming in name with its slightly smaller cousin Clark, Shark Island sits just a little further afield off the coast of Point Piper. Fear not, you're no more likely to encounter a shark here than anywhere else in the harbour. The island is said to takes its name from its (more or less) shark shape. Take a look at the map and see if you agree! Offering similarly lovely views of the bridge and surrounding bays, Shark Island offers the same idyllic location for a leisurely packed lunch. Make the trip by boat and be rewarded by stunning views, tranquil bush land and crystal clear waters lapping at the shores.
Cockatoo Island
This UNESCO world heritage site is home to regular art exhibitions, installations and festivals. It also happens to be a fantastic picnic or barbecue destination! Try the Slipways picnic spot, or grab your tongs for a sausage sizzle. Don't forget to pack the cold drinks. A great perk of Cockatoo is the giant outdoor chess set, and lawn games which can be borrowed from the visitors centre. The wonderful green Biloeal Lawn offers picturesque views from where you can throw down your rug. Afterwards, explore the nearby historic buildings that decorate the island.
Rodd Island
Fancy a different perspective of Sydney with incredible west side views of the bridge? Located in the heart of the Paramatta River in Iron cove, Rodd Island is charmingly unpopulated and an excellent picnic spot. Stock your basket with sandwiches, snacks and a bottle of wine and enjoy a delightful afternoon exploring this less known spot. With inviting tended gardens to explore and space for a Frisbee session, Rodd Island is just begging to be visisted. Pre-purchase your visitors pass online.
McKell Park
OK, this one is not technically an island. However, with its gorgeous manicured gardens and stunning harbour vistas you could be forgiven for thinking you've stepped into paradise in McKell Park. There's plenty of emerald green grass and the right amount of seclusion to enjoy a gathering with friends.
How to get there
The easiest way to reach the islands in Sydney is to book a private boat transfer. And with Majestic Water Taxis, getting there and back is fast, simple, and impactful!
Why choose a water taxi? Because you are welcome to tuck into your drinks and hamper on the journey. We accept BYO! You can also ask us stop and take your photo in front of your favourite landmarks, we are always glad to assist. Take over our surround sound system with your playlist to complement the scenery you'll enjoy while on board with us.
Why not book extra cruise time to soak in the sights on the way? Sunshine or rain, the premium vessel ensures a relaxing charter.
BYO refreshments
Don't forget to bring wine and snacks for the journey, as we accept BYO on all journeys.
Need more ideas or travel advice?
We're here to help. We can recommend options to suit your preferences and requirements.
Book your picnic with us
Book online or call 0439 625 377 to discuss options and prices with our friendly team