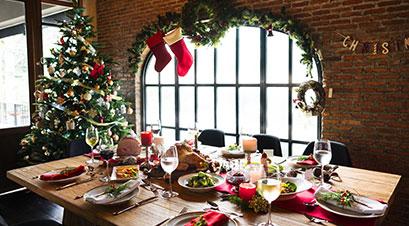 Experience the Magic of Christmas Day on Sydney Harbour
There is no better way to spend Christmas Day than surrounded by the sparkling blue waters of the world's most beautiful harbour. Whether you prefer a relaxed beach picnic or a sit down lunch with the family, Sydney's coves, islands, restaurants and beaches make for an incredible selection of idyllic Christmas outings. We've compiled our absolute favourites to help you plan the perfect day with your loved ones.
The Best Places to Spend Christmas Day in Sydney
Have a picnic on one of Sydney's picturesque islands
Sydney Harbour is a treasure trove of unique bays and islands that make for unsurpassable Christmas picnic spots. Shark Island offers stunning harbour views, while Clark Island offers incredible views and bushland paths for a post-lunch stroll. On the opposite side of the harbour, Rodd Island offers serious competition with its views, gardens and delightful historic buildings just waiting to be explored with the family. Wherever you choose, don't forget a small fee park entry fee applies. Visit Sydney Harbour National Parks to arrange yours.
Indulge in a long lunch (or dinner) with a view
Sydney is blessed with some seriously incredible waterside restaurants - far too many to list here, but we'll try! After lunch, hop back in your private water taxi and set off to your next destination.
The Boathouse, Glebe: For magical views and fresh seafood
Q dining, Circular Quay: Feel like a VIP in the luxurious Pullman Quay Grand Sydney Harbour
Sails on Lavender Bay: Postcard views of the Opera House and Harbour Bridge. Try the exceptional four-course menu.
China Doll, Woolloomooloo: Tuck into an intoxicating banquet of modern Chinese cuisine and Pinterest-worthy cocktails
Catalina, Rose Bay: Watch the sea planes take off as you feast on an unforgettable lunch
The Dining Room, The Rocks: Soak up idyllic views of the Opera House and delicious cuisine
Make a day of it at Clifton Gardens
Take a water taxi to the beautiful surrounds of Cliftons Gardens at Chowder Bay where all your needs are rolled into one. The clear azure waters here are calm and ideal for swimming with children of all ages, while the park or beach is perfect for a cricket match. Bring a picnic or BBQ and while away the afternoon. Prefer someone else to do the cooking? Book a table at Ripples or Sergeants Mess for a dazzling meal overlooking the bay.
Have a beach Christmas at Balmoral
Balmoral is a Christmas Day favourite for good reason. Whether you're in the mood for a rustic family picnic, a beachside barbecue with friends or an elegant meal at The Bather's Pavilion, you can't go wrong at this pretty-as-a-picture spot. Public Dining Room is another highly recommended Balmoral classic.

Arrive at your destination effortlessly in a Limousine Boat
Could there be anything more special than setting off in a deluxe water taxi for a unique Christmas Day with your loved ones? Spacious and comfortable, Majestic water taxis are more "water limousine" than taxi. With covered seating for all weather, a BYO alcohol policy and a sound system ready for your holiday season soundtrack, it's time you discovered the Majestic difference. Bring a bottle of sparkling to make a toast on your trip.
Where would you like us to take you?
No destination on the harbour is off limits. We can even pick up from private wharves. Use our wharf finder or contact us to plan your trip.
Book your Christmas Day water taxi
Christmas is a popular time of year on the harbour. Book your trip early to avoid disappointment.
Call us on 0439 625 377 or email us on info@majesticwatertaxi.com to book your private water taxi.