TRAVEL BY WATER TAXI TO QUDOS BANK ARENA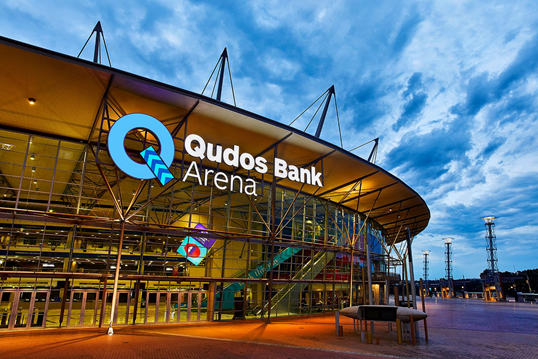 QUDOS BANK ARENA, SYDNEY OLYMPIC PARK
Qudos Bank Arena (formerly the Sydney SuperDome) is Australia's premier indoor multi-purpose venue. Built for the Sydney 2000 Olympic Games, The venue is situated at Sydney Olympic Park right next to ANZ Stadium. Qudos Bank Arena is the largest indoor Arena in Australia that can accommodate up to 21,000 visitors This colossal Arena has played host to a number of international superstars including Beyoncé, Taylor Swift, Madonna, Stevie Wonder, P!NK, Lady Gaga, Motley Crue and Kendrick Lamar. Other events include family shows such as Disney on Ice, The Wiggles and indoor sport, such as Fast4 Tennis, International Netball and AusX Open Motocross. Find out what's on visit. https://www.qudosbankarena.com.au/Event-Calendar
MAJESTIC WATER TAXIS ULTIMATE EXPERIENCE
Majestic Water Taxis can give you the ultimate fan experience, by transporting you and your guests straight to Sydney Olympic Park Ferry Wharf in your own private water taxi limousine. You and your guest can enjoy sipping on an ice-cold beer or a glass of Champagne while taking in the spectacular views as you make your way up the Parramatta River to Sydney Olympic Park Ferry Wharf. Sydney Buses operates Route 526 services from the wharf until 7:28pm daily to the Sydney Olympic Park precinct for patrons attending events at Qudos Bank Arena. So leave plenty of time to bus or prearrange a land taxi to take you up to Qudos Bank Arena from the Ferry Terminal.
Here are a few suggestions:
·01Gather your crew and enjoy a personal Harbour cruise before heading to the venue. Our luxury water taxis are licensed for BYO and have the facility for you to play your music on board, cruising the harbour in style whilst enjoying the amazing sights of Sydney.

·02Enjoy early food and drinks at one of the many waterfront restaurant bars before the concert. Our private water taxis can cater for large groups, with the vessels holding 21 to 28 passengers per water taxi.

·03Why not combine both? This is a once in lifetime opportunity to see these amazing artists, so why not make this a night to remember with iconic sights of Sydney Harbour and unique photo opportunities.

·04Allow plenty of time planning your trip. From the Sydney CBD, it takes 40 minutes by water taxi to get to Sydney Olympic Park Ferry Wharf. On arrival at Sydney Olympic Park Ferry Wharf it takes 16 minutes by Public Bus, 7 minutes by Land Taxi and takes 45 minutes to walk to Qudos Bank Arena via Hill Road. So allow plenty of time to get to Qudos Bank Arena from the Wharf.
NEED HELP PLANNING YOUR TRIP?
Ask about our private water taxi services to Qudos Bank Arena. Get on board, call us 0439 625 377 or email us on info@majesticwatertaxi.com. We'll be happy to provide any information you require, and assist with your travel arrangements. We cater to travellers with special needs. If any of your group requires special travel facilities, just tell us your needs.