SailGP F50 Catamarans Sydney Harbour
The thrilling sight of supercharged F50 catamarans charging down Sydney Harbour, battling it out on the water for their countries in an all-new nation vs nation international competition.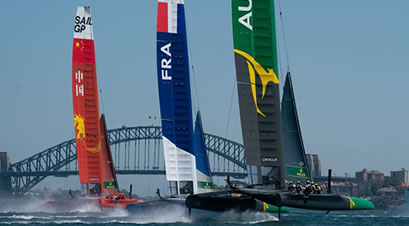 Experience the Sydney SailGP Gran Prix with a Private Water Limousine Charter
In February Sydney will host the first of the exhilarating annual SailGP series. Six teams will race fifty-foot catamarans in a breathtaking battle for $1million prize money. Are you ready to look on from the heart of the action in a private water limousine charter?
Discover the SailGp with Majestic
The water limousine will be exclusively yours for the afternoon. Beginning with pickup from any wharf of your preference (including private wharves), we will set off to watch the race in a designated area on the Harbour - an unrivalled vantage point.
The water limousine taxis are spacious and comfortable vessels with experienced captains. Bring your champagne, beer, cheese platters and antipasto, we are completely BYO friendly.
• Exclusive water taxis for your group - no sharing with others
• Pickup and drop-off to any wharf of your choice on Sydney Harbour
• BYO champagne, beer, wine, cheese boards and nibbles
• Premium travel with cover for all weather and comfortable vinyl seats
• Speakers for your pre-race playlist - bring your device
• Large open rear deck area for perfect viewing of the race
Race Dates and Time
TBA
Pricing for exclusive race charters
$400 per/hour for the first 10 people & $15 per/person thereafter.
$600 for 1.5 hours for the first 10 people & $15 per/person thereafter.
$800 for 2 hours for the first 10 people & $15 per/person thereafter.
Heading to Shark Island to watch the race? Beat the Queues to the office SailGP Viewing Area
With the official viewing area located on Shark Island, beat the large bottle-neck of crowds expected at the Opera House's Man of War steps (official ferry pickup point). We can zip you directly to Shark Island from any wharf on Sydney Harbour - and of course take you back after the race.
Sydney SailGP Cockatoo Island HQ Discovery Experience
With the SailGP base camp setup on Cockatoo Island, take this once in a lifetime opportunity to get amongst race preparations. Meet the sailors and see the incredibly sleek F50 yachts up close.
Majestic Water Taxis can transport you to Cockatoo Island in style and comfort from any wharf on the Harbour - even your own.
Cockatoo Island transfer pricing
Pricing varies according to your pickup wharf. Call us for a fast quote or book online now!