Water Taxi Travel for Real Estate Inspections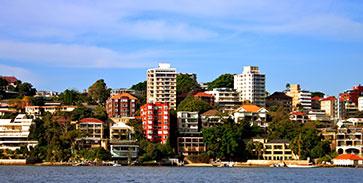 Majestic Water Taxis provides a range of services for architects, real estate agents, property owners and other stakeholders for real estate inspections.
If you're looking for a fast, cost-efficient way of getting to waterfront properties around Sydney Harbour, the Parramatta River, and Lane Cove River, we can provide all the services you need
Our Real Estate Inspection Services
When it comes to examining waterfront properties, water access is essential. We deliver multiple options for professionals and commercial operations.
01

For Architects: Access by water is an excellent way of visualising the property from its most important perspective. Architectural design in high-value areas like Point Piper is strongly influenced by the environment, both aesthetically and in terms of practical property design.

02

For Builders & Developers: Waterfront properties are complex construction operations. The waterfront itself is often critical to structural issues and property access from the waterside. Surveyors, engineers, and other building professionals typically require access to the waterfront area to evaluate construction issues.

03

For Real Estate Purposes: Access to prestige Sydney waterfront properties via luxury water taxi is a major selling point in the real estate market. It's also a big issue in assessing property values. It allows you to evaluate a range of unique issues which can only be directly assessed by viewing the property's condition and environmental issues from the waterside.

04

Commercial Waterfront Properties: On a much larger scale, commercial waterfront properties require similar waterfront access for builders, developers, engineers and surveyors. In some cases, extensive survey and evaluation of the waterfront is a fundamental requirement of development, sometimes requiring several days of assessment and surveying.
Contact us for Any Water Access Needs
Majestic Water Taxis can provide you with any level of water transport services you need. Whether you need a luxury water taxi to impress prospective clients or reliable water taxi travel to a new building site, just call our team on 0439 625 377 or email: info@majesticwatertaxi.com. We can provide any services you require on an ongoing or one-off basis.