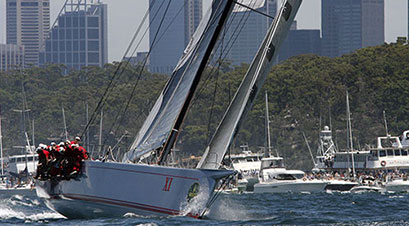 Sydney to Hobart Yacht Race
The Sydney to Hobart yacht race is Sydney Harbour's showcase event. This is a major international yacht race, attracting visitors from around the world. Some of the world's best racing yachts compete in this event. The yacht race starts from Sydney on Boxing Day every year.
In the past, Australian artists painted pictures of Sydney Harbour literally full of a forest of the masts of big sailing ships. This is the day when Sydney Harbour returns to its roots and the whole harbour is full of boats under sail. It's a truly astonishing sight, not to be missed for visitors.
See the Race with Majestic Water Taxis
If you're looking for a grandstand seat to watch the start of the Sydney to Hobart yacht race and follow the yachts out down the Harbour, choose a Majestic Water Tax's charter – an unforgettable experience for you and your friends. BYO accepted.
Our expert water taxi skippers also know how to find the best places to watch the race start. So book your first class seats with Majestic Water Taxis.
Travelling on Sydney Harbour on Boxing Day
If you're new to Sydney, a few words of advice at this point:
01

The harbour is extremely crowded on Boxing Day. If you're travelling on Sydney Harbour, leave the navigation to the experts.

02

Getting around town on the water is still easy, but the Sydney to Hobart event is peak hour on Sydney Harbour. Ask about your travel times if you're travelling at the time the race starts.
Booking Your Place on Sydney Harbour
Already have a place in mind? It is best to book early if you want to beat the elite yachting clubs and secure a place at Sydney's best eateries. Most of the best places around the harbour are booked out well in advance. Make enquiries with your preferred restaurant or club about bookings today.
Booking with Majestic Water Taxis
While you're booking your food, get on the phone to Majestic Water Taxis too. Demand for services is very high during the event. You can book your private water taxi online or call us on 0439 625 377 or email us directly on info@majesticwatertaxi.com to make your booking. We suggest that you contact us about your booking needs at the planning stage of your trip. We can pre-book your water taxi for you.
Would you like advice about Sydney to Hobart events, water taxi travel, or places to see the race? Speak with our local experts! We'll be happy to provide any information you need. We'll make sure that you have a fabulous day and get the best views at this iconic yacht race.