New Year's Eve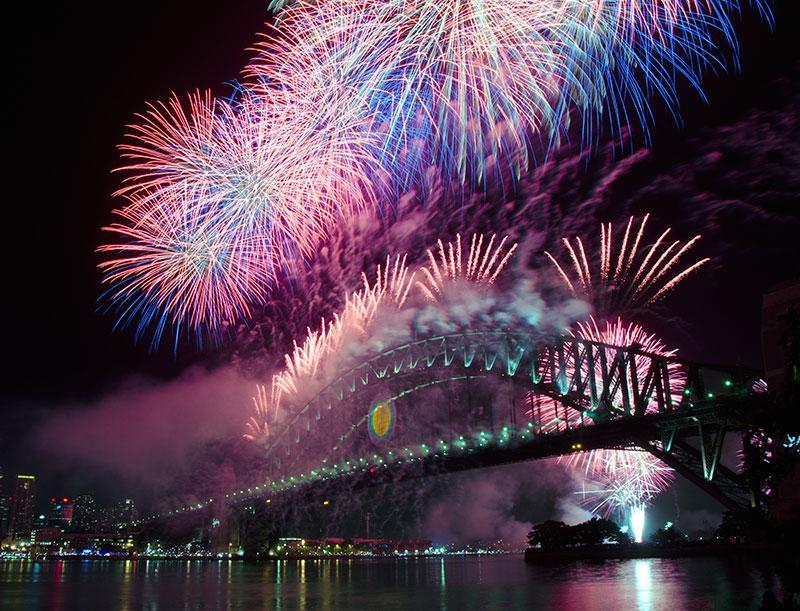 The famous Sydney New Year's Eve celebrations is the biggest party in Sydney. The whole city really shows off the Sydney Harbour Bridge and you can have a great time on the Harbour.
You can expect to see dazzling shows, great music, and of course, the famous Sydney Harbour fireworks show.
For an unforgettable New Year's Eve celebration, Majestic Water Taxi's offer a range of charter options.
Our New Year's Eve Harbour Charters
To view the dazzling display of fireworks on the harbour, Majestic Water Taxis offer a 90 minute family friendly cruise for the 9 pm fireworks, ideal for small children.
A midnight firework charter from 11:15 pm to 12:45 am is an ideal way to celebrate the New Year in style, so grab a group of friends some bubbly for your own private celebration with first class seats and spectacular view. Individual bookings and shared vessels are also available.
Travel Tips for New Year's Eve on Sydney Harbour
If you haven't been to Sydney for the New Year before:
01

Watch your time. Getting around town can be tricky, and time consuming. There are a number of road closures and ferry stop closures.

02

Forget road transport for getting around the harbour. City crowds are huge, and traffic is heavy. The easiest, and by far the quickest way to travel around Sydney Harbour, is by water taxi.

03

Make sure that you get started early to get to your chosen spot on the harbour.

04

Sydney Harbour is very crowded with a lot of boats and yachts crowding the harbour.

05

The Sydney Harbour fireworks are very loud, much louder than a rock concert. Stay in the designated public areas for watching the show.
Choose Your Place to watch the NYE Celebrations
If you have already selected a place to enjoy the firework display you will also need to consider the best way of getting there and home after the show, and how to dodge the crowds and traffic on your return trip.
Luckily, we can take you to all the best vantage points and offer midnight. Experience the fireworks from Barangaroo Reserve to Cockle Bay, Circular Quay to Fort Denison and even Goat Island. We'll take you to all the well-known fireworks hotspots plus some secret spots.
As well as the fireworks, you will be able to enjoy the sights and sounds. These include aerial displays, light projections and the truly Spectacular Welcome to Country from the Aboriginal and Torres Strait Islander Peoples.
Travel on the Water with Majestic Water Taxis
Our expert staff and water taxi skippers know Sydney Harbour very well. We can tell you the easiest and simplest way to get from your place to the New Year's show and back again.
Our private water taxis can access any part of the harbour and can also take you to some of Sydney Harbour's finest restaurants, New Year's Eve shows, and the best places on the water to see the celebrations.
Booking Your Private Water Taxi
New Year's Eve is one of the busiest times of the year for travel on Sydney Harbour, so book your private water taxi in advance. Call us on 0439 625 377 or email us on . Ask us about pre-bookings, preferably in early November to avoid disappointment.
We can help you book a great New Year experience. Let's discuss your travel plans, and find great restaurants, shows, and much more. We'll make sure that you have a fabulous time bringing in the New Year!