Marriage Proposal Services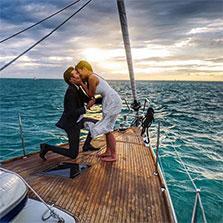 For many of us, locations are the heart of our moments and memories. When you're planning a very special moment, let us take you to a speculator location.
Make your marriage proposal one that you'll never forget with Majestic Water Taxis. We'll take you out onto the magical, timeless Sydney harbour, finding a private location for your romantic gesture.
With the iconic city skyline as your backdrop and a luxury water taxi for your transport, you're sure to find the perfect words for a perfect moment.
Special and Unforgettable
Majestic Water Taxis make sure that your marriage proposal is truly special and unforgettable. We can provide any facilities you need, including that most important of all, privacy. Our luxury water taxis are ultra-comfortable, genuinely luxurious, fully enclosed for privacy and absolutely reliable.
When it comes time for the big moment, we shut down all of our equipment. Our vessels have a private deck area at the stern and our skippers are discreet. We make sure that you have all the privacy, peace and quiet you want for this very important event.
We can also help you with music and glasses of champagne for celebratory drinks. We are happy to say that we haven't had a "No" yet!
Making the Arrangements
Let us provide a truly unique, spectacular setting for your wedding proposal. We can help you to pick a location on Sydney Harbour, arrange times and make sure that you have a fabulous romantic moment on the water.
We can also arrange for your next destination. You can plan a fabulous night out, followed by your marriage proposal, a romantic trip home, or whatever you want to do on this very special occasion.
Contact Us to Arrange Your Fabulous Sydney Harbour Proposal
It's easy to book your very special Sydney Harbour trip with Majestic Water Taxis. Just call us on 0439 625 377, email: info@majesticwatertaxi.com or make your booking online. Talk to our experts about everything you need and leave the rest to us. We'll be happy to provide any services, facilities, or amenities you need.