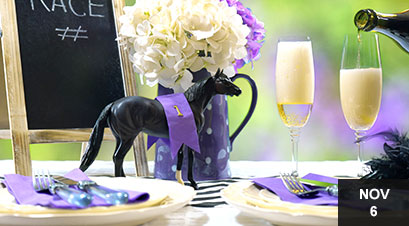 MELBOURNE CUP DAY IN SYDNEY
The Melbourne Cup (otherwise known as the race that stops the nation) is Australia's most celebrated horse race, occurring each year on the first Tuesday of November. If Melbourne is the epicentre of celebrations, then Sydney runs closely behind. The city is alive with atmosphere as restaurants and bars fill with office workers who've been given the afternoon off to indulge in the festivities. You'll find yourself in good company for the 3 o'clock race, with raucous cheering and shouting a tradition as the winning horse passes the post.
The Best Melbourne Cup Spots in Sydney (by Water Taxi)
Wondering where to go for Melbourne Cup in Sydney? Whether you're in the mood for a long relaxing lunch or something a little livelier, Sydney Harbour is teeming with options.
Here are our tips for the Sydney spots guaranteed to be buzzing on Cup Day:
MANLY
Manly Wharf favourites Hugo's and Manly Wharf Hotel are bound to be in full swing for lunch and beverages with picturesque views. Or take a stroll to Manly Wine or the Boathouse for a delectable (and equally picturesque) lunch.
Barangaroo
With its sophisticated strip of waterfront restaurants and bars, Barangaroo is a foolproof choice for a Cup day that doesn't disappoint. Head to Barangaroo House where you'll find three tiers of restaurants or bar each with a unique feel - or try Untied rooftop bar for drinks and canapés.
Balmoral
Take a water taxi to beautiful Balmoral for an experience to be savoured. The legendary Boathouse Restaurant is an all-time favourite among locals and visitors alike, as is Balmoral's Public Dining Room and The Bathers' Pavilion Restaurant.
Watsons Bay
Doyle's is an esteemed Watsons Bay favourite for sumptuous fare and sophistication and a classic choice for a Melbourne Cup lunch. Though you may find it hard to walk past the gorgeous blue and white striped umbrellas and lively beer garden of the Watsons Bay Hotel.
Circular Quay
We'll never get tired of Opera Bar for glorious cuisine and beverages with the best views in Sydney, but the quay is also surrounded by endless worthwhile options. Take your pick from the Opera Bar Oyster Bar, Eastbank Cafe, Aria restaurant, Hacienda at Pullman Quay Grand Sydney Harbour, Buckley's Sydney, or the fabulous Searock Grill.
Woolloomooloo Wharf Precinct
With to-die-for cuisine and a stunning wharf-side location overlooking the Sydney's superyachts, it's hard to look past Woolloomooloo Bay for an extravagant Melbourne Cup lunch. Step from your water taxi to the likes of China Doll, Criniti's and Otto Ristorante.
Rose Bay
Oozing elegant and stunning harbourside charm, Rose Bay's popular Cup Day haunts are renowned for a reason. The suburb's gems include the Regatta Restaurant and Bar at Rose Bay Marina, and Catalina or the Empire lounge at Sydney Seaplanes terminal. All three-offer indulgent cuisine in beautiful surroundings, right on the water.
Middle Harbour
Allow Majestic Water Taxis to whisk you away for an unforgettable Melbourne Cup Day at Sydney's finest Middle Harbour restaurants. Our favourites include the Plonk Beach Cafe, Ormeggio at the Spit, Chiosco by Ormeggio, and the Middle Harbour Yacht Club.
Pro-Tip:
With Sydney restaurants in high demand on Melbourne Cup, make your lunch reservations early to avoid missing out. Still not sure where to go? Ask us for more recommendations and travel advice.
Book your water taxi for Melbourne Cup
The easy way to get around on Melbourne Cup Day is by water. Contact Majestic Water Taxis to plan your trip now.