Hens Parties
Looking for that once in a lifetime Hens event in Sydney? Have you considered a fabulous day or night on Sydney's spectacular Harbour – cruising the harbour in your own private luxurious modern water taxi – whilst having fun and enjoying the sights of Sydney.
Majestic Water Taxis provide a fabulous range of options for your Hens event. We can take you anywhere you want to go, from some of Sydney's most famous restaurants and places, to iconic bars around the harbour or you can stay on the boat and enjoy your very own scenic tour.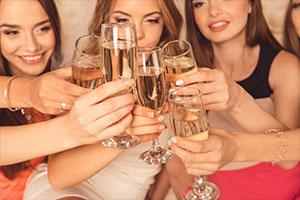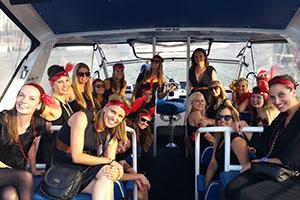 Where Would You Like to Go?
Majestic Water Taxis are here to help you in choosing where you should take your Hen. Just advise us what your special hen loves to eat and drink and we can book it for you. Here are just a few suggestions:
01

Walsh Bay: There are fabulous eateries at Walsh Bay; including Ventuno Pizzeria, Teras Bali Restaurant, El Phoenician, and many more.

02

Chowder Bay: Take in the sweeping harbour view from Ripples restaurant or the East Coast Lounge at Chowder Bay.

03

Circular Quay: How about The Oyster Bar, Buckley's, Eastbank Café or the Opera Bar to start things off.

04

Manly: We can take you to or from Hugos, Bavarian Bier café, Papi Chulo or the Manly Wharf Hotel.

05

Rose Bay: Want to go to the Regatta Restaurant, or Catalina's restaurant?

06

Watsons Bay: What about a great day or night out starting at the Watsons Bay Hotel.

07

Woolloomooloo: Is famous for its restaurants and night life some of the places are, The Tilbury Hotel, Otto Ristorante, The Larder and China Doll.
There is really no limit to the possibilities for having that once in a lifetime hen's event on Sydney Harbour. We know all the great places to go on the harbour, and can take you wherever it is you want to go.
Private Charters
Want your own private hen's event? Our luxury water taxis are licensed for BYO and have the facility for you to play your music on board, cruising the harbour in style whilst enjoying the amazing sights of Sydney to top off that special Hen's day/night!
Booking Your Event
Majestic Water Taxis are here to help you enjoy that once in a lifetime hens event all you have to do is call us on 0439 625 377, email: info@majesticwatertaxi.com or make your booking online. Talk to one of our experts about your needs, arrange your times and leave the rest to us.