Sydney Seaplanes Transfer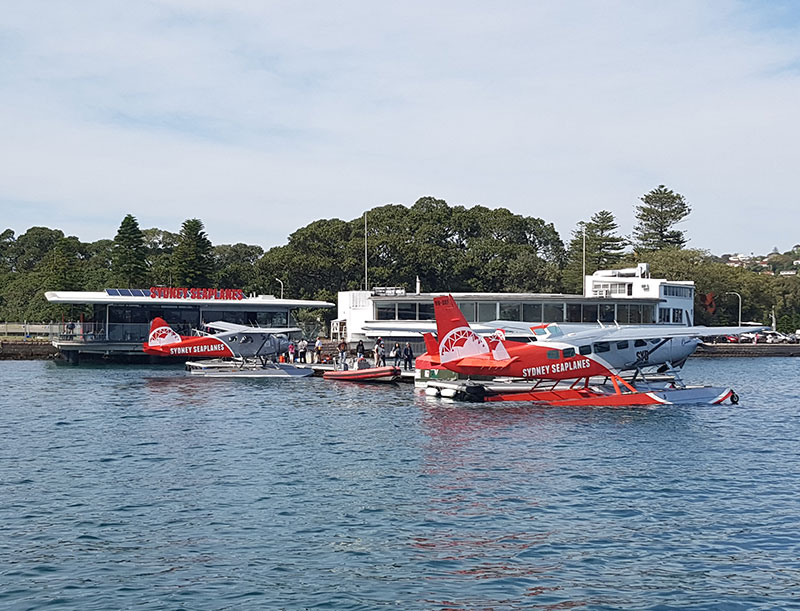 The best holiday experiences are about a unique adventure. You can now combine our luxury water taxi services with Sydney Seaplanes, allowing you to experience the spectacular sites of Sydney from two unique and beautiful vantage points.
Begin your journey in a private water taxi, cruising past the sites of Sydney in style and end it with the awe-inspiring experience of gazing down at the city from above. There is no better way to enjoy the beauty of Australia's most famous beaches and landmarks than by combining these two iconic experiences in a package deal. We'll provide transfers from hotels and wharfs along the city waterfront to the Sydney Seaplanes boarding dock at Rose Bay.
Your journey to Rose Bay wharf is up to you. Majestic Water Taxis has the whole city waterside covered, with hundreds of destinations to choose from. Begin your adventure by cruising the harbour, exploring hidden gems such as the Botanical Gardens before traversing across to Sydney sea planes, absorbing the many iconic sights on the way.
The Treat of a Lifetime
Fly over the city iconic buildings and land marks as you sore through the sky's to the many destinations Sydney Sea Planes offers such as Jonah's at Palm Beach, Cottage Point Inn Hawksbury River, Berowra Waters Inn Hawksbury River, Peats Bite Hawksbury River or a romantic picnic lunch. And on your return Majestic Water Taxis will be waiting to take you on your final journey home

A Scenic Ride to Remember
After your scenic journey in a water taxi, you can enjoy the treat of a lifetime as you gently glide over the city, bushlands and beaches in a remarkable seaplane. Sydney Seaplanes grew from a modest affair to one of the largest seaplane operators in Australia, with a handsome fleet of planes including the 13-seat turbo prop amphibious Cessna Caravan. This growth is a direct result of the iconic experience they provide as an integral part of Sydney Harbour.
Unique Venue
Sydney Sea planes now boast a new function centre in its newly renovated terminal, The Empire Lounge. Acquiring its name from the 1938 flying boats, the Empire Lounge is Australia's first purpose built Seaplane Terminal. This world class venue hosts a luxurious Lounge, Terminal, discreet VIP space, Function area and flying boat museum. With stunning water views surrounding, this is Sydney's next 'it' spot to spoil yourself or others, for Sydney locals or tourists alike.
Book with Majestic Water Taxis Today
Whether you're on holiday, having a wedding, a party or organising a corporate event, this unique adventure across water and sky will be unlike any other experience found in the world. Get in touch with Majestic Water Taxis today to find out more. Call us on 0439 625 377 or email us on info@majesticwatertaxi.com.