Luxury Water Taxis – For Corporate Groups & Team Building
When you're entertaining international visitors, managing busy travel schedules or simply rewarding your team, turn to our luxury white limousine water taxis. We will provide unforgettable experiences for all of your guests with a fabulous day or night out on Sydney Harbour and beyond. Show your VIPs around the city at its stunning best and plan an enjoyable trip your guests will love.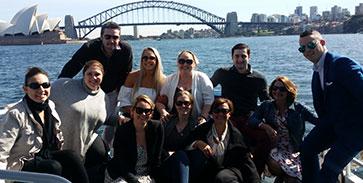 Team Building
Majestic Water Taxis can transport your team to any event or activity around the harbour. Give your team a fantastic trip to your corporate event, or spend a great day on the water, strengthening your team.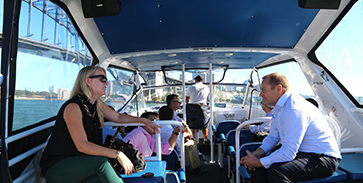 Client Travel
Invite your clients to lunch or dinner at one of the many waterfront restaurants on Sydney Harbour. Our Sydney water taxi service will get you there in style and stress free, catering for large numbers of guests when you have a big group of VIPs to manage.
Corporate Hire
Luxury on the water is simple with our commuter service. Enjoy a spectacular journey to your harbour side destination for lunch, dinner or your next corporate event. You can travel where you want, when you want and arrive in comfort. Enjoy all the fabulous sights and places Sydney Harbour has to offer.
Harbour Tours
Our luxury water taxi will show you a truly spectacular sightseeing tour. Take your team or clients for a cruise around the harbour, stop off for lunch or dinner, and have fun with us. Take in iconic buildings such as the Opera House, Kirribilli House, Fort Denison, Barangaroo and all the many other famous waterfront landmarks.
Charter Hire
The easiest and most reliable way to move people around Sydney is on the water. Wherever you need to go, our luxury limousine water taxi service will get you there on time, in comfort and style. Want a day trip or a great after-work night out on the harbour? Our Sydney Harbour water taxis can do it all.
Bookings
To book your corporate travel, just call us on
0439 625 377
, email:
or make your booking online. Ask us about your travel needs, and our experts will make all the arrangements for a fabulous trip on Sydney Harbour.