Water Taxi Group Bookings & Special Events
Majestic's luxury water taxis take you to all the famous parts of Sydney in style and comfort. We provide services for a wide range of different groups, including business and holiday tour groups. We cater for groups of up to 23 people per boat for all kinds of group travel needs. If you're looking for an enjoyable option for luxury group travel around Sydney Harbour, just call our team.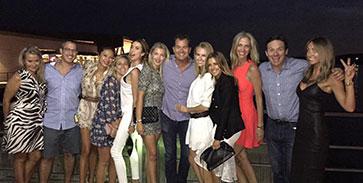 Cruise Sydney Harbour
There's no limit to how much fun you can have on the water in Sydney Harbour. Take your group out to any major attraction around the harbour like Balmoral, Rose Bay, Double Bay, Taronga Zoo, Darling Harbour, Manly, or Watsons Bay. Picnic on one of the Sydney Harbour islands, then go further ashore and explore. At the end of your adventure, you can get back on board your private luxury water taxi and embark on your next adventure.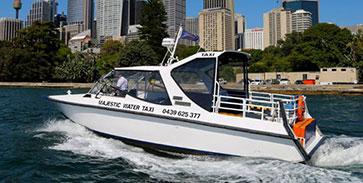 Avoid the Traffic
We can provide a unique way to travel that avoids all the congestion. Embark on your journey and we can take you to the major sporting events at ANZ Stadium Homebush; or concerts and plays at the Lyrics theatre, Sydney Dance Company and Opera House. With a stable hull, comfortable seating, an encoded cabin and an open deck, we ensure a smooth dry ride.
Charter Hire
Avoid the crowds and travel to one or all of the many hidden gems ranging from Sydney harbour swimming spots, parks and
Islands
. Enjoy a day having a family picnic on Shark, Clark, Cockatoo or Rodd Islands.
Group Bookings
To book your luxury limousine water taxi service, call us on
0439 625 377
, email:
info@majesticwatertaxi.com
or enquire online. If your group has any special needs, or you want to plan your water travel, just talk to our local experts. Note seperate landing or tour fees may apply when visiting any of the Sydney Harbour Islands, visit
Sydney Harbour National Park
for more information. We're happy to help make your trip a wonderful experience.