8 ways exploring Sydney by water taxi beats regular boat travel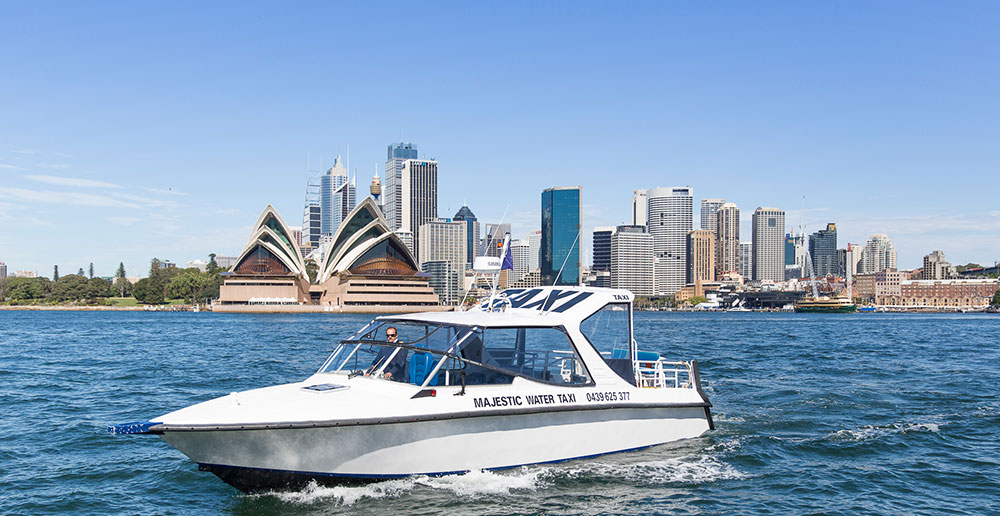 Getting around in Sydney in a water taxi is no ordinary experience. In fact, you may not have realised the numerous resounding benefits there are to be had when you step onto a breathtaking private charters and tours. Here are eight reasons we think you'll become a convert.
1. It's Sydney's most scenic transport option
Unlike larger vessels, water taxis are nimble and can get close to the city's best sights, sandy shores and small docks. But that's not all. Only in a water taxi do you truly have access to the entire harbour. Look up the map and pick a destination to visit, you're the captain.
2. You'll experience the best hidden gems Sydney has to offer
To extrapolate on the advantage of smaller vessels without destination limits, in a private taxi you can experience secret Sydney. Majestic Water Taxis can take you to exclusive or little-known places that are only accessible by water. Want to know what these are? You'll have to ask us.
3. It's perfect for intimate groups through to large parties
Celebrating a birthday, special occasion or anniversary? Treat your guests with direct transport to Sydney's most exclusive seaside suburbs, restaurants and venues. From 21 up to 28 people can travel in each vessel.
4. You can cruise in style on a VIP water limousine
For those that like a more luxury, you can opt for a limousine with deluxe features to guarantee an extra special trip. Expect differences such as smooth vinyl seats and spacious under cover cabin area and open rear deck. The limousines are perfect for special events like weddings or corporate functions.
5. The boats are modern and comfortable
Our taxis are equipped with all the latest technology and safety equipment. With both an enclosed area and open-air seating, you're insured for all weather conditions. Soak up the sun or stay cosy and dry if it rains. In any situation, you're guaranteed a great time onboard.

6. You can design your own Sydney tour
Where else can you plot your own course of adventure around Sydney? Visit a neighbourhood you've never experienced, try a new restaurant by the sea, or explore the harbour islands and national parks.
7. It's fast, direct and easy
If there's a quicker way to travel across the city, we'd like to hear about it. Zip from any wharf in the harbour to… any wharf in the harbour. No mandatory trips via Circular Quay if that's not part of your plan. It's so simple.
8. You can BYO wine and music onboard
What other boat tour allows you to bring your own alcohol on board? Make the most of your trip by packing chilled refreshments to sip as you take in the scenery. You can also bring your own snacks, packed lunch or playlist. Get the party started!
Travelling with Majestic is more competitively priced than you would think. So, what are you waiting for? Start planning your experience now.
Organise your trip online or call us on 0439 625 377.