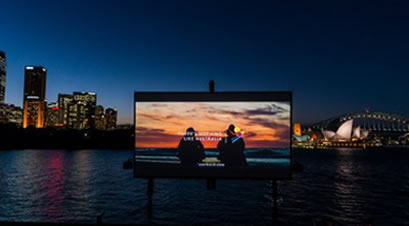 St.george Open Air Cinema

8th January - 16th February 2019
Located at Fleet Steps, Mrs Macquaries Point, our cinema is adjacent to the Royal Botanic Garden and set within the historic and protected Farm Cove.
A huge array of choices from snacks to share plates, meals and fine desserts we have dining and drinking options to suit all tastes.
Each year the open air cinema brings you the most exciting mix of preview and premiere screenings as well as a few of our recently released favourites.
More Information can be found at stgeorge open air
Why Travel by Private Water Taxi
Travelling by private water taxi is the quickest and simplest way to get around Sydney on any given day. There are a large number of events and endless options for places to go and things to see. This makes water travel a much better option.
Booking Your Private Water Taxi Trips
We recommend booking your travel in advance. Call us on 0439 625 377, email: or enquire online. Discuss your travel needs with our local travel experts and get the benefit of their years of experience. We can help you with getting to events, finding great restaurants, and seeing all the sights on Sydney Harbour.