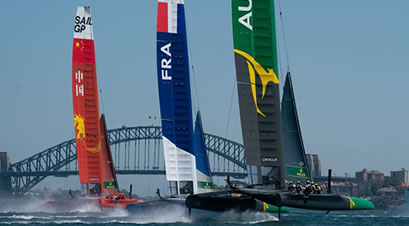 SailGP F50 catamarans Sydney Harbour 15th

- 16th February 2019
The event will showcase the best the Harbour has to offer, with a great range of free and ticketed spectator experiences on- and off-water.
The SailGP Sydney event will take place on Friday 15 from 4pm-6pm and Saturday 16 February from 3pm-5pm, 2019. Each national team will compete in fleet races, culminating with the top two teams racing for a place on the winner's podium in a match race on Saturday afternoon.
Official Viewing Area - Shark Island
Literally in the middle of the action, the Official Viewing Area on Shark Island offers the ultimate SailGP experience with the best vantage point to view the races. The area will be transformed into an exclusive spectator venue complete with a big screen showing live race coverage and commentary. Majestic Water Taxis Provides shore-to-shore transfers from Man-O-War steps and or any wharf location on Sydney Harbour.
Tickets are limited for this truly exceptional experience.
Purchase Tickets to Viewing Area
Why Travel by Private Water Taxi
Travelling by private water taxi is the quickest and simplest way to get around Sydney on any given day. There are a large number of events and endless options for places to go and things to see. This makes water travel a much better option.
Booking Your Private Water Taxi Trips
We recommend booking your travel in advance. Call us on 0439 625 377, email: or enquire online. Discuss your travel needs with our local travel experts and get the benefit of their years of experience. We can help you with getting to events, finding great restaurants, and seeing all the sights on Sydney Harbour.