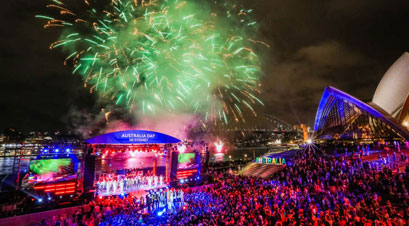 AUSTRALIA DAY
Australia Day is essentially the country's Fourth of July Equivalent and it occurs on the 26th of January every year. It's a national public holiday and a huge party day around the country. It's also a very important day in Sydney. January 26 celebrates the date of the arrival of the First Fleet which established the original Sydney British colony.
If you haven't seen Australia on its national day before, expect to see Sydney covered in Australian icons. You'll see a lot of cheerful Aussies celebrating together and having a very good time.
The Sydney Harbour Australia Day shows are getting bigger and better every year. These shows rival New Year's Eve for size and scope. Expect a fabulous range of entertainment, and a spectacular fireworks display.