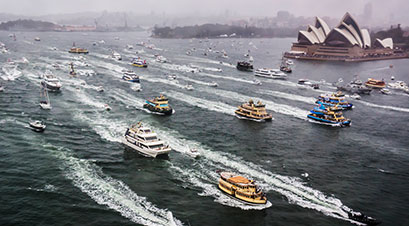 AUSTRALIA DAY 26th January 2019
Australia Day is essentially the country's Fourth of July Equivalent and it occurs on the 26th of January every year. It's a national public holiday and a huge party day around the country. It's also a very important day in Sydney. January 26 celebrates the date of the arrival of the First Fleet which established the original Sydney British colony.
If you haven't seen Australia on its national day before, expect to see Sydney covered in Australian icons. You'll see a lot of cheerful Aussies celebrating together and having a very good time.
The Sydney Harbour Australia Day shows are getting bigger and better every year. These shows rival New Year's Eve for size and scope. Expect a fabulous range of entertainment, and a spectacular fireworks display.
Travel Tips for Australia Day on Sydney Harbour
Getting around Sydney during special events can be truly demanding:
01

If you're travelling on the water, you'll see stunning and beautiful tall sailing ships, a fantastic array of the very latest and most beautiful yachts and powerboats. This is a real Sydney Harbour spectacle, absolutely glorious and not to be missed.

02

Sydney city is very crowded on January 26. The best places to watch the shows are on the water around Sydney Harbour, Darling Harbour, and designated attractions. Take a little time to explore the tourist and travel information.

02

Getting stuck in heavy Sydney traffic is an absolute must-avoid. Choose the simplest and most straightforward way of getting where you want to go in the city or on the harbour and allow a little extra time for travel.

04

The Sydney Harbour fireworks are fabulous, but very loud indeed. Be sure to stay in the public viewing areas.
Travel by Private Water Taxi
Travelling by private water taxi is the quickest and simplest way to get around Sydney on any public holiday. There are a large number of events and endless options for places to go and things to see. This makes water travel a much better option.
Travel to the Australia Day Shows with Majestic Water Taxis
Majestic Water Taxis is your instant solution travel around Sydney Harbour. Plan your day, come and see the Australia Day celebrations, dine at fabulous waterfront restaurants, and enjoy Australia's big party. You can take one of our private water taxis wherever you want to go. We can take you to the big fireworks show and return whenever you want. Come and visit some of Sydney's finest waterfront eateries, Australia Day events, and have a great time with us.
Booking Your Private Water Taxi Trips
We recommend booking your travel in advance. Call us on 0439 625 377, email: or enquire online. Discuss your travel needs with our local travel experts and get the benefit of their years of experience. We can help you with getting to events, finding great restaurants, and seeing all the sights on Australia Day.